On 5 October 2017, the day before Children's Day, Little Bodhi Student Care [LBSCC] celebrated Children's Day. After lunch, all students, teachers and NTU volunteers gathered in the classroom and had a mini concert. We started with a song sang by lower primary students, and they also performed a Chinese skit which I personally think was very funny. Some of the middle primary students told a story about a magnet kingdom. But I personally think that the skit performed by the lower primary students was better.
After the performances, teachers gave out goody bags to us, there was some snacks for us to enjoy too. After the mini concert ended, we had our tea break, the tea break that day was delicious and special because there was ice-cream and mooncakes.
After tea break, there was a mini fun-fair which was organised by the upper primary students. I had a chance to organise one game booth for the lower primary and middle primary to play. We have prepared the educational games like spelling and maths for them to learn through and play. There was also other booths with active games like blowing a balloon, in order to win the player had to ensure the balloon was big enough not to fall through the hole. We had a very fun time.
At the end of game time, the lower primary voted for their most enjoyed booth. I found out that the active games were more welcomed than the educational game. Our group is not the most well-liked group, however we learnt how to organise games and had a chance to develop our leadership skills and self-direct skills.
This was the best Children's Day celebration at LBSCC because I had the opportunity to organise my own game booths for others and I was very proud of my own drawing and decoration of the whiteboard for the Children's Day.
Contributed by: Hoe Yu Jie
P6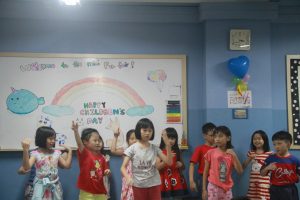 View more pictures from our Gallery!